Try CarePass for FREE for one month. This offer is membership and all you need to do follow the link and create an account.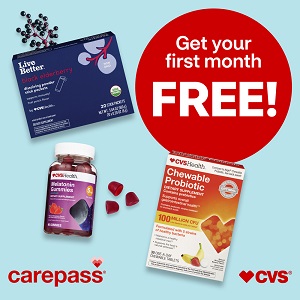 Description:
Create a CVS account and try CarePass for FREE for one month.
Enjoy a $10 monthly promo reward as a thank you.
Try CarePass for FREE for one month then enjoy your member benefits for only $5 a month or $48 a year – a $12 savings.
20% off CVS Health Brand and Live Better Products everyday with your CarePass Membership.
Receive a monthly promo reward to spend on something just for you.
These stores change prices frequently. Therefore, the prices here may not match the store prices. The price at the time you add the product to your cart will be the final price. If you would like to report any coupon, please email us at editor@keepcalmandcoupon.com
Are You Still Unable to Find CVS CarePass Membership?
If you still cannot find any coupons, then sorry all deals have expired!
I try my best to provide my readers with all the latest & best deals. Unfortunately, sometimes offers do expire.
You can search all related deals here for all our Coupon Categories. Be sure to search for "CVS"
Looking for the latest Coupons? Click HERE to see a list of our daily updated Newest Coupon Offers.
Did you know that our daily updated Coupon Database has coupons for thousands of items? See what savings are available and check out our Coupon Resource.
Looking for more Deals, Freebies, and Giveaways? Be sure to visit our daily updated coupon offers or visit Amazon.com to find out the latest trending deals!