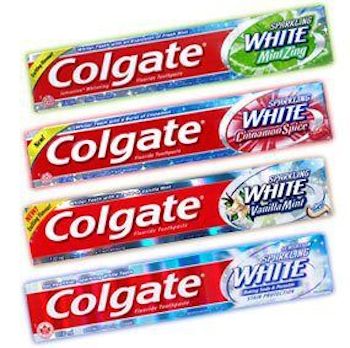 Coupon Details
You can SAVE $1.00 On any ONE (1) Colgate® Toothpaste, 2.1oz or larger (excludes Cavity Protection, Baking Soda & Peroxide, Sparkling White®

Colgate® Toothpaste Coupon!
SAVE $1.00 On any ONE (1) Colgate® Toothpaste, 2.1oz or larger (excludes Cavity Protection, Baking Soda & Peroxide, Sparkling White®
Product Details
Colgate Max Fresh with Whitening Toothpaste, 6.3 Oz Tube
Colgate Max Fresh with Whitening Toothpaste has 10X longer lasting cool*, so you can breathe confidently. This breath freshening toothpaste has a unique toothpaste formula that is packed with hundreds of mini breath strips and unleashes a powerful rush of freshness for long-lasting fresh breath. Colgate Max Fresh with Whitening Toothpaste with Breath Strips has a Cool Mint flavor and invigorates your brushing experience. This fluoride toothpaste leaves your breath feeling fresh for hours. Plus, this teeth whitening toothpaste fights cavities and whitens teeth leaving you with a confident smile.
A Fresh Experience in Fighting Bad Breath
Get long-lasting fresh breath with Colgate Max Fresh. It's not just toothpaste for bad breath, Colgate Max Fresh with Whitening Toothpaste is also a fluoride toothpaste, so it whitens teeth and helps prevent cavities. Breathe easier with the confidence to get closer. Pair Colgate Max Fresh toothpaste with toothbrushes that polish your teeth for a bright smile you'll love.
New Larger Size Tube
Colgate MaxFresh toothpaste has a new larger size tube (6.3 oz vs. 6 oz) and still hundreds of mini breath strips to unleash freshness. For good oral hygiene, brush your teeth twice a day for two minutes. You can smile confidently when you use Colgate Max Fresh toothpaste. Leave your mouth feeling fresh for hours with Colgate Max Fresh with Whitening Toothpaste. Keep your cool with fresh breath toothpastes that give you the confidence to connect.
*vs a leading fluoride toothpaste
One 6.3 oz tube of Colgate Max Fresh with Whitening Toothpaste, Cool Mint
Breath freshening toothpaste provides freshness that lasts for hours
Colgate Max Fresh toothpastes provide 10X longer lasting cool than a leading fluoride toothpaste
Packed with hundreds of mini breath strips that unleash a powerful rush of freshness for long-lasting fresh breath
Fluoride toothpaste formula helps fight cavities when you brush
This teeth whitening toothpaste whitens teeth by removing surface stains
Colgate Max Fresh toothpaste is a sugar free and gluten free toothpaste
We aim to show you accurate product information. Manufacturers, suppliers and others provide what you see here, and we have not verified it.
We are sorry if this offer is no longer valid, but you can find many updated coupons here
Walmart Deal:
Walgreens Deal:
These stores change prices frequently. Therefore, the prices here may not match the store prices. The price at the time you add the product to your cart will be the final price. If you would like to report any coupon, please email us at editor@keepcalmandcoupon.com
Are You Still Unable to Find Coupons?
If you still cannot find any coupons, then sorry all deals have expired!
I try my best to provide my readers with all the latest & best deals. Unfortunately, sometimes offers do expire.
You can search all related deals here for all our Coupon Categories. Be sure to search for "Oral Care"
Looking for the latest Coupons? Click HERE to see a list of our daily updated Newest Coupon Offers.
Did you know that our daily updated Coupon Database has coupons for thousands of items? See what savings are available and check out our Coupon Resource.
Looking for more Deals, Freebies, and Giveaways?  Be sure to visit our daily updated coupon offers or visit Amazon.com to find out the latest trending deals!