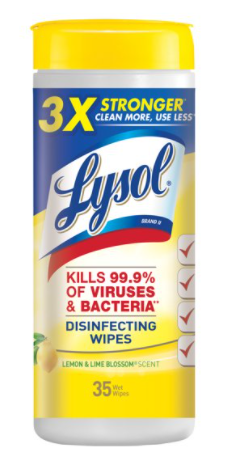 Coupon Details
You can SAVE $1.00 on Any TWO (2) Lysol® Disinfecting Wipes (30 ct. or Higher)

LYSOL® Coupon!
SAVE $1.00 on Any TWO (2) Lysol® Disinfecting Wipes (30 ct. or Higher)
Product Details
Lysol Disinfecting Wipes can be used as a convenient way to clean and disinfect your household surfaces. Each pre-moistened disposable disinfecting wipe kills 99.9% of germs when used as directed. No bottles, no sponges, no mess. Lysol Disinfecting Wipes are great for cleaning most surfaces and disinfecting surfaces. These Lysol Wipes kills 99.99% of all viruses and bacteria, including the following: Cold and Flu Viruses, Salmonella Enterica (Salmonella), Influenza A Virus, Herpes Simplex Virus Type 1, Respiratory Syncytial Virus, and COVID-19 when used as directed on hard, non porous surfaces. Each cleaning disinfecting wipe kills cold and flu viruses and helps stop the spread of germs, perfect for touch-up cleaning. Lysol Wipes are also approved to remove more than 95% of allergens. Like germs, allergens exist on hard surfaces. Use Lysol wipes as directed. These disinfecting wipes are even suitable to use on wood. How to Use Lysol Disinfecting Wipes? Pre-clean surface. Use enough fresh disinfectant wipe to thoroughly wet the surface. To Sanitize with these cleaning wipes: Allow to remain wet for 10 seconds. To disinfect with these cleaning wipes: Allow to wet for 4 minutes. To clean and remove allergens with these cleaning wipes: Use fresh wipe on surface. For surfaces that come in contact with food, rinse thoroughly with water. Repeat for stubborn stains. For more than a century, Lysol has been helping to protect families from illness-causing germs. To learn more about our mission and find further disinfecting solutions, solutions for household cleaning, and disinfectant spray products, visit our website or check out our instagram. ​
DISINFECTING WIPES KILLS 99.9% OF VIRUSES AND BACTERIA: Lysol Disinfecting Wipes are tested and proven to clean and kill 99.9% of viruses and bacteria, including 8 cold and flu viruses* (when used as directed)​.
KILLS COVID-19 VIRUS: Tested & proven to kill COVID-19 virus** (**Kills SARS-CoV-2 on hard, non-porous surfaces in 15 seconds), EPA Reg #777-114​
MULTI-PURPOSE CLEANING WIPES 3X STRONGER THAN A PAPER TOWEL: These disinfecting cleaning wipes are 3x stronger than a paper towel.
USE ON MULTIPLE SURFACES: Germs and messes occur on more than kitchen and bathroom surfaces; conveniently tackle any tough surface including remotes, tablets, and smartphones with these multi-surface cleaning wipes.
DISINFECTING WIPES FOR CLEANING: Disinfect and deodorize with the fresh smell of Lemon & Lime Blossom Lysol Disinfecting Wipes. Safely wipe down spills and remove allergens, including pet dander, dust mites, and pollen​.
LEADERS IN DISINFECTION: Looking for some of our other best disinfectant cleaning products? Try our Lysol All Purpose Cleaners, Lysol Disinfectant Sprays, and Lysol Toilet Cleaners.
We aim to show you accurate product information. Manufacturers, suppliers and others provide what you see here, and we have not verified it.
We are sorry if this offer is no longer valid, but you can find many updated coupons here
Walmart Deal:
Walgreens Deal:
These stores change prices frequently. Therefore, the prices here may not match the store prices. The price at the time you add the product to your cart will be the final price. If you would like to report any coupon, please email us at editor@keepcalmandcoupon.com
Are You Still Unable to Find Coupons?
If you still cannot find any coupons, then sorry all deals have expired!
I try my best to provide my readers with all the latest & best deals. Unfortunately, sometimes offers do expire.
You can search all related deals here for all our Coupon Categories. Be sure to search for "Cleaning Products"
Looking for the latest Coupons? Click HERE to see a list of our daily updated Newest Coupon Offers.
Did you know that our daily updated Coupon Database has coupons for thousands of items? See what savings are available and check out our Coupon Resource.
Looking for more Deals, Freebies, and Giveaways?  Be sure to visit our daily updated coupon offers or visit Amazon.com to find out the latest trending deals!