You can save $1.00 with any TWO (2) purchase of ZIPLOC BRAND PRODUCTS. Read the details to start saving.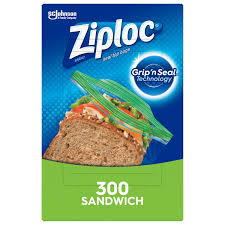 $1.00 OFF with any TWO (2) purchase of ZIPLOC BRAND PRODUCTS
-Slide your fingers across textured seal
-Perfect for storing cookies & snacks
-You'll see & hear the lock
-Unlock fun on the run with Ziploc brand sandwich bags.
-Featuring Grip n Seal technology that includes easy-open tabs and non-slip textured grips, these BPA-free plastic resealable sandwich bags are easy to open, hold and seal.
See how much you can save in below stores
Walgreens Deal:
Buy any TWO (2) purchase of Ziploc Sandwich Bags with Grip 'n Seal Technology @ $6.00 ($3.99 per price)
Use $1.00 off on any TWO (2) ZIPLOC® BRAND PRODUCTS Printable&Online Coupon
Final Price  = $5.00 only!
These stores change prices frequently. Therefore, the prices here may not match the store prices. The price at the time you add the product to your cart will be the final price. If you would like to report any coupon, please email us at editor@keepcalmandcoupon.com
Are You Still Unable to Find ZIPLOC BRAND PRODUCTS Coupons?
If you still cannot find any coupons, then sorry all deals have expired!
I try my best to provide my readers with all the latest & best deals. Unfortunately, sometimes offers do expire.
You can search all related deals here for all our Coupon Categories. Be sure to search for "Household Essentials" or "Food Storage & Containers"
Looking for the latest Coupons? Click HERE to see a list of our daily updated Newest Coupon Offers.
Did you know that our daily updated Coupon Database has coupons for thousands of items? See what savings are available and check out our Coupon Resource.
Looking for more Deals, Freebies, and Giveaways?  Be sure to visit our daily updated coupon offers or visit Amazon.com to find out the latest trending deals!