You can save $5.00 with any THREE (3) purchase of L'OREAL PARIS ELVIVE SHAMPOO, CONDITIONER OR TREATMENT. Read the details to start saving.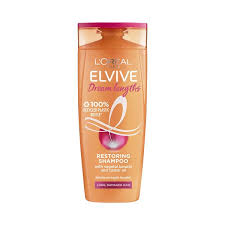 $5.00 OFF with any THREE (3) purchase of L'OREAL PARIS ELVIVE SHAMPOO, CONDITIONER OR TREATMENT
-Long hair goals? Stop cutting. Elvive Dream Lengths, with a cocktail of vitamins and fine castor oil, strengthens hair's length and helps seal split ends.
-To save your length inch by inch. Dream Lengths Restoring Shampoo visibly repairs damage without weight down, Dream Lengths Super Detangler Conditioner instantly detangles to reduce breakage and Dream Lengths No Haircut Cream Leave In Conditioner helps seal split ends and reduces breakage.
-In just 1 use, Elvive revives damaged hair
See how much you can save in below stores
Walgreens Deal:
Buy any THREE (3) purchase of L'Oreal Paris Elvive Dream Lengths Restoring Shampoo @ $14.97 ($4.99 per price product)
Use $5.00 off on any THREE (3) L'Oreal Paris® Elvive shampoo, conditioner or treatment (see details for exclusions) Printable&Online Coupon
Final Price  = $9.97 only!
These stores change prices frequently. Therefore, the prices here may not match the store prices. The price at the time you add the product to your cart will be the final price. If you would like to report any coupon, please email us at editor@keepcalmandcoupon.com
Are You Still Unable to Find L'OREAL PARIS ELVIVE SHAMPOO, CONDITIONER OR TREATMENT Coupons?
If you still cannot find any coupons, then sorry all deals have expired!
I try my best to provide my readers with all the latest & best deals. Unfortunately, sometimes offers do expire.
You can search all related deals here for all our Coupon Categories. Be sure to search for "Shampoo & Conditioner" or "Hair Care"
Looking for the latest Coupons? Click HERE to see a list of our daily updated Newest Coupon Offers.
Did you know that our daily updated Coupon Database has coupons for thousands of items? See what savings are available and check out our Coupon Resource.
Looking for more Deals, Freebies, and Giveaways?  Be sure to visit our daily updated coupon offers or visit Amazon.com to find out the latest trending deals!