You can SAVE $1.00 on any TWO (2) Butterfinger Single or Share size

Butterfinger Coupon!
SAVE $1.00 on any TWO (2) Butterfinger Single or Share size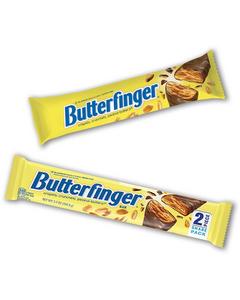 Product details
It's time to get your treat on with Butterfinger Full Size candy bars. These perfectly full sized, peanut-buttery, chocolatey bars are big on taste. Packed with the crispety, crunchety, peanut-buttery taste everyone knows and loves, these individually wrapped candy treats are easy to snack on and enjoy. Take these delicious peanut-buttery, chocolatey bars anywhere and share with anyone. They're great for home or the office, parties, get-togethers or a dessert sweet treat. Butterfinger is made with no artificial flavors or colors and is gluten-free. Butterfinger Full Size candy bars are an irresistible treat you love to share.
UNWRAP DELICIOUSNESS: Butterfinger delivers the taste you know and love with this individually wrapped, full sized, peanut-buttery, chocolatey bar
THE TASTE YOU LOVE: Perfectly irresistible, our Butterfinger Full Size candy bars have the same crispety, crunchety, peanut-buttery taste you know and love just for you
ANYTIME IS THE RIGHT TIME: Wherever you go, these delicious Full Size bars make the perfect treat for yourself, a backpack snack or even a sweet gaming go-to candy
CARE TO SHARE: Grab these shareable, peanut-buttery, chocolatey bars and treat yourself, friends, family or coworkers to a treat that can't be beat
DELICIOUS HOLIDAY TREATS: 'Tis the season to enjoy these delicious, chocolatey holiday treats as stocking stuffers ​
error:
We aim to show you accurate product information. Manufacturers, suppliers and others provide what you see here, and we have not verified it. 
We are sorry if this offer is no longer valid, but you can find many updated coupons here
Walmart Deal:
Walgreens Deal:
These stores change prices frequently. Therefore, the prices here may not match the store prices. The price at the time you add the product to your cart will be the final price. If you would like to report any coupon, please email us at editor@keepcalmandcoupon.com
Are You Still Unable to Find Coupons?
If you still cannot find any coupons, then sorry all deals have expired!
I try my best to provide my readers with all the latest & best deals. Unfortunately, sometimes offers do expire.
You can search all related deals here for all our Coupon Categories. Be sure to search for "Food"
Looking for the latest Coupons? Click HERE to see a list of our daily updated Newest Coupon Offers.
Did you know that our daily updated Coupon Database has coupons for thousands of items? See what savings are available and check out our Coupon Resource.
Looking for more Deals, Freebies, and Giveaways?  Be sure to visit our daily updated coupon offers or visit Amazon.com to find out the latest trending deals!