You can save $1.00 with any THREE (3) purchase of BLUE BUFFALO WET DOG FOOD. Read the details to start saving.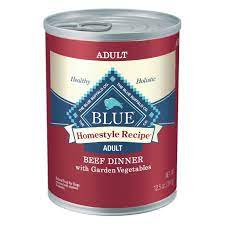 $1.00 OFF with any THREE (3) purchase of BLUE BUFFALO WET DOG FOOD
-Always starts with high-quality, protein-rich beef to provide essential amino acids your dog needs every day
-Wholesome whole grains like brown rice and barley supply the complex carbohydrates that your dog needs for energy
-Healthy garden veggies and nutritious fruit like carrots, sweet potatoes, blueberries and cranberries
-Contains NO corn, wheat or soy, as well as NO artificial flavors or preservatives
See how much you can save in below stores
Walgreens Deal:
Buy any THREE (3) purchase of Blue Buffalo Homestyle Recipe Beef Dinner with Garden Vegetables for Dogs  @ $9.87 ($3.29 per product price)
Use $1.00 off on any THREE (3) BLUE Wet Dog Food (12.5 oz) Printable&Online Coupon
Final Price  = $8.87 only!
These stores change prices frequently. Therefore, the prices here may not match the store prices. The price at the time you add the product to your cart will be the final price. If you would like to report any coupon, please email us at editor@keepcalmandcoupon.com
Are You Still Unable to Find BLUE BUFFALO WET DOG FOOD Coupons?
If you still cannot find any coupons, then sorry all deals have expired!
I try my best to provide my readers with all the latest & best deals. Unfortunately, sometimes offers do expire.
You can search all related deals here for all our Coupon Categories. Be sure to search for "Dog Food"
Looking for the latest Coupons? Click HERE to see a list of our daily updated Newest Coupon Offers.
Did you know that our daily updated Coupon Database has coupons for thousands of items? See what savings are available and check out our Coupon Resource.
Looking for more Deals, Freebies, and Giveaways?  Be sure to visit our daily updated coupon offers or visit Amazon.com to find out the latest trending deals!